Telescopio Bresser Space Explorer 150/750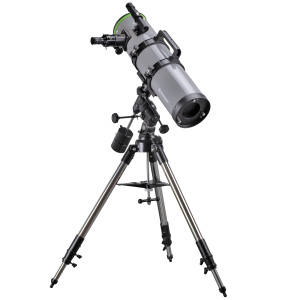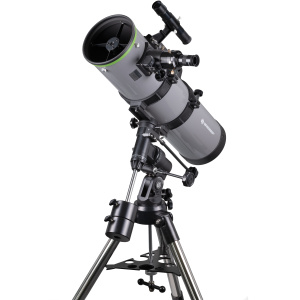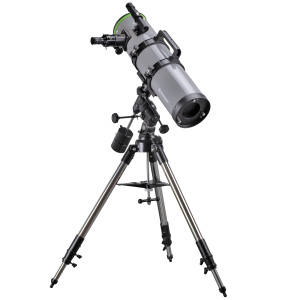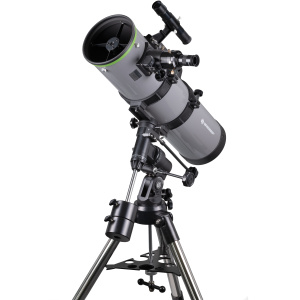 Riflettore newtoniano. Apertura: 150 mm. Lunghezza focale: 750 mm
The Bresser Space Explorer 150/750 telescope with an EQ-3 mount shows you the night sky in stunning detail. Go on a journey into distant worlds: Thanks to the combination of a large 150 mm aperture and a short 750 mm focal length, you can marvel at a vast array of celestial objects such as large nebula, open star clusters or the Andromeda galaxy. The powerful Newton reflector telescope is also great for observing our own solar system: with the 25-mm Plössl eyepiece, you can view the moon in 30x magnification. The premium parabolic primary mirror produces significantly sharper images and better contrasts than a comparable telescope with a simple spherical mirror. In addition, the telescope also has a large 55 mm secondary mirror that illuminates the field of view perfectly to create a bright image.
Portable design - with 150/750 reflector telescope
Can't wait to get out of the house to view the Orion Nebula or the Pleiades? With this telescope, you can search for the perfect observation spot: thanks to the short focal length, the tube is short and easy to transport. In addition, the premium equatorial mount allows even beginners to set up the telescope in no time. Tracking is also very simple – you can compensate for the earth's movements manually so that your observed objects stay within the field of view. To ensure maximum viewing comfort, the focuser on this Newton reflector telescope is attached to the side of the tube. The aluminium tripod is height-adjustable and features an accessory tray so that you can keep all your important gear within reach. The red dot finder allows you to align the telescope with objects in the night sky. The red point indicates the position at which your telescope is pointing. If you want to capture images of your nighttime discoveries, you can connect your smartphone to the telescope via the smartphone camera adapter.
Discover the fascinating night sky with the Bresser Space Explorer 150/750 telescope!
Features:
Reflector telescope for nighttime observations
Simple tracking by hand
EQ3 equatorial mount
Height-adjustable aluminium tripod with accessory tray
The kit includes:
Tube
EQ3 mount
Height-adjustable aluminium tripod
Plössl 10 and 25 mm eyepiece
6x30 finder scope
Smartphone holder
Instructions with warranty information
Telescopio Bresser Space Explorer 150/750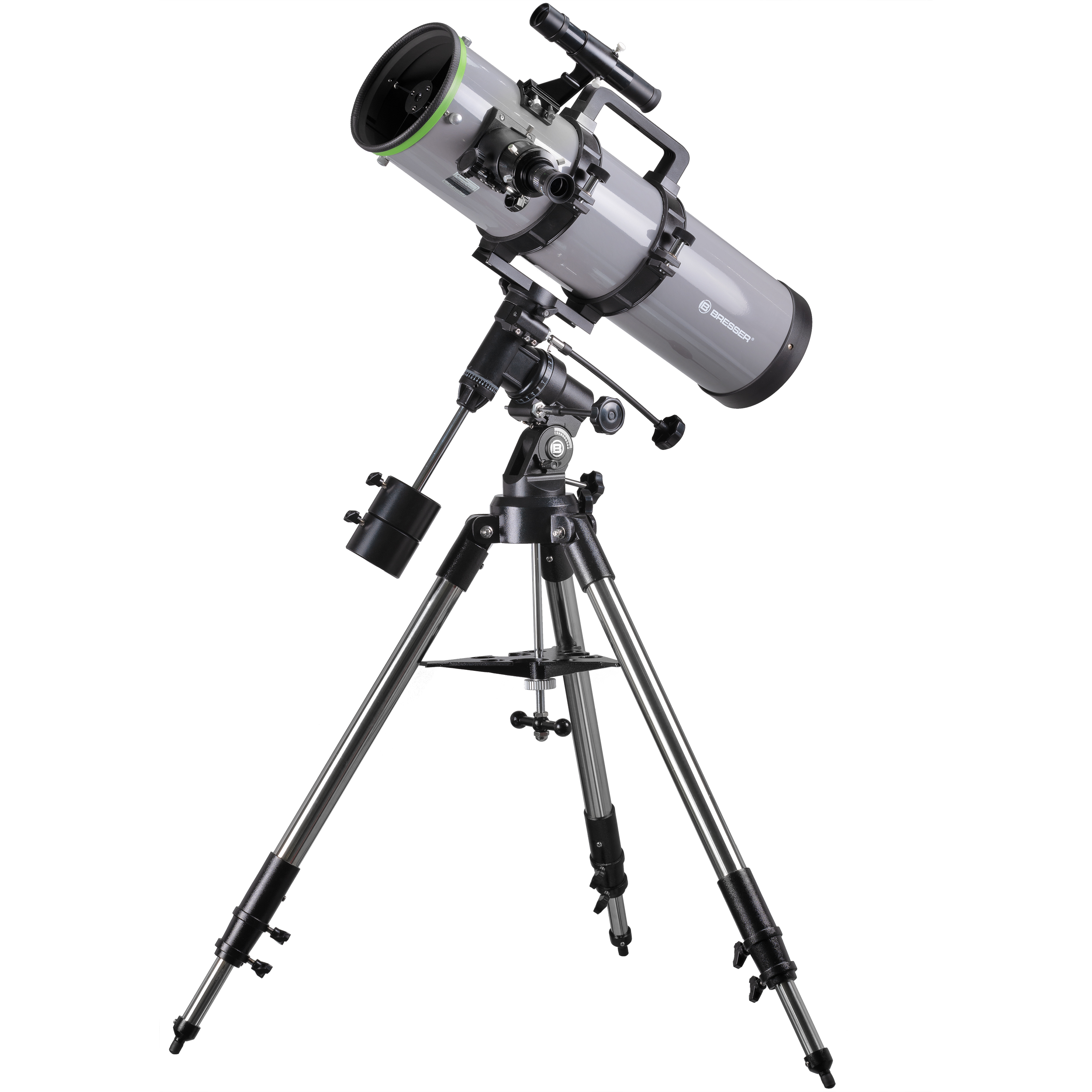 The Bresser Space Explorer 150/750 telescope with an EQ-3 mount shows you the night sky in stunning detail. Go on a journey into distant worlds: Thanks to the combination of a large 150 mm aperture and a short 750 mm focal length, you can marvel at a vast array of celestial objects such as large nebula, open star clusters or the Andromeda galaxy. The powerful Newton reflector telescope is also great for observing our own solar system: with the 25-mm Plössl eyepiece, you can view the moon in 30x magnification. The premium parabolic primary mirror produces significantly sharper images and better contrasts than a comparable telescope with a simple spherical mirror. In addition, the telescope also has a large 55 mm secondary mirror that illuminates the field of view perfectly to create a bright image. Portable design - with 150/750 reflector telescope Can't wait to get out of the house to view the Orion Nebula or the Pleiades? With this telescope, you can search for the perfect observation spot: thanks to the short focal length, the tube is short and easy to transport. In addition, the premium equatorial mount allows even beginners to set up the telescope in no time. Tracking is also very simple – you can compensate for the earth's movements manually so that your observed objects stay within the field of view. To ensure maximum viewing comfort, the focuser on this Newton reflector telescope is attached to the side of the tube. The aluminium tripod is height-adjustable and features an accessory tray so that you can keep all your important gear within reach. The red dot finder allows you to align the telescope with objects in the night sky. The red point indicates the position at which your telescope is pointing. If you want to capture images of your nighttime discoveries, you can connect your smartphone to the telescope via the smartphone camera adapter. Discover the fascinating night sky with the Bresser Space Explorer 150/750 telescope! Features: Reflector telescope for nighttime observations Simple tracking by hand EQ3 equatorial mount Height-adjustable aluminium tripod with accessory tray The kit includes: Tube EQ3 mount Height-adjustable aluminium tripod Plössl 10 and 25 mm eyepiece 6x30 finder scope Smartphone holder Instructions with warranty information